OUR MISSION TO THE WORLD AND OUR COMMUNITY
In Health Ministries,we minister to promote total health - the physical, mental, spiritual, and social aspects - among all those with whom we come in contact reflecting Jesus for the purpose of bringing people to Him.  As the right hand of the gospel, Health Ministries play a leading role in converting others to Christ.
OUR MISSION AS A WORLD CHURCH
The mission of the North American Division Health Ministries department is :
Sharing hope and wholeness through the healing power of Christ and to reach North America and the world with the distinctive, Christ-centered Seventh-day Adventist message of hope and wholeness.
OUR VISION
We want to equip and inspire all church members to shine the love of God to all in need.
Upcoming Event - Class #4 October 24
Healthy Meals for Healthy Living
Health is a treasure, yet as a nation we are plagued with a myriad of debilitating diseases, and premature deaths.
Scientific studies have confirmed that a diet rich in fruits, grains, nuts and vegetables contain all the food elements that we need, and people who eat mostly of plant-based foods experience optimal health, while avoiding many diseases and early death.
The Conyers Seventh Day Adventist Church will be presenting "Healthy Meals for Healthy Living" an 8 class series, which will demonstrate the preparation of Delicious Plant -Based menu items, and show that when combined with other Lifestyle changes can significantly improve one's health and well being.
We invite you to join us on this exciting journey.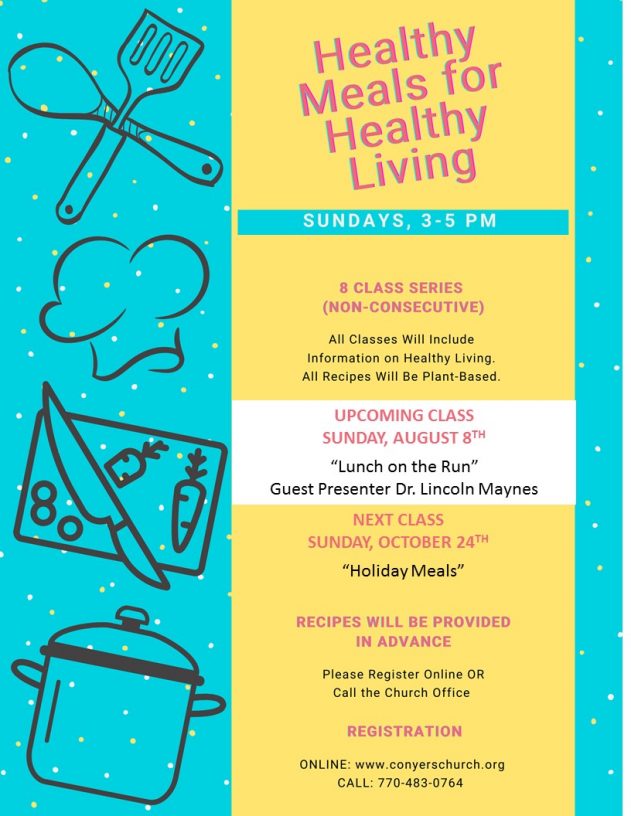 HEALTH INITIATIVES
Health Ministries Sabbath
For the past 10 years the Conyers SDA Church has held a Health Ministries Sabbath during the month of September.  Health Ministries Sabbath is an opportunity for our church to focus the Sabbath Service on the importance of good health and how the health work enhances the mission of the Seventh-day Adventist Church.  The theme of the Health Ministries Sabbath usually focuses on physical and spiritual health but there has also been a focus on mental health, healthy relationships, emotional well-being and more.
Let's Move Day
The third Sunday in September is National Let's Move Day.  At Conyers SDA Church, we have used this opportunity to encourage our church members and community to engage in physical activity.  This is usually done by walking that day but we have also held 5K walk/run events on this day as well.  Our bodies are the temple of God and thus should be kept healthy by exercise and eating well so as to be presentable to the most High God.
Community Health Fair
The community health fair is a health summit put on by our church that focuses on physical and spiritual health.  The NEWSTART acronym is used to structure the fair. 
Each booth has a specific health component  (listed below) with a different lifestyle disease highlighted:
Nutrition
Exercise
Water
Sunshine
Temperance
Air
Rest
Trust in God
Each person gets a number of health checks completed including blood pressure, glucose/diabetes, height, weight, lung capacity, and a chair massage, and leaves with a spiritual thought and prayer.
Healthy Cooking Schools
Each quarter our church holds a healthy cooking school with a different health emphasis. The vegan style meals are prepared fresh with the help of the guests. The guests receive copies of the recipes so they can prepare them at home.  The cooking school ends with a taste of all the recipes that was prepared.
Financial Peace University
Last year the Health Ministries Department held the financial course "Financial Peace University".  This nine week course emphasizes saving for emergencies, getting out of debt, giving to your church,saving for a comfortable retirement and becoming a generous giver.
The Seventh-day Adventist Church has long promoted a message of healthful living.  It is an opportunity to engage our churches,schools, hospitals, and community by bringing together all the components of a healthy lifestyle, including quality nutrition and daily physical activity in order to be the vessel for our Lord and Savior to dwell in.
"Too little attention is generally given to the preservation of health.  It is far better to prevent disease than to know how to treat it when contracted.  It is the duty of every person for his own sake and for the sake of humanity, to inform himself in regard to the laws  of life and conscientiously to obey them." 
The Ministry of Healing, pg. 44
CONTACT INFORMATION
Micko Singh-Anderson -  medicalministry@conyerschurch.org
CONTACT THE HEALTH MINISTRIES DEPARTMENT TODAY!